Get a new Virtual Number
Be up and running in seconds with your new number,
and elevate your brand and presence.
The Right Impression
Give your business or organisation that established look and feel by choosing a local or non-geographic virtual landline number. Your customers will not only feel more comfortable, but will save on call costs. Pick a virtual number from hundreds of UK locations.
Virtual Landline Numbers
If there's an area code for it, the likelihood is, we have it. Choose virtual landline numbers for every major town and city in the UK. Numbers are graded as silver, gold and platinum. Businesses operating nationally, non-geographic numbers are available.
The Tools You Need
My Virtually Local is our own feature rich, intuitive number management portal. Easily manage number diverts, configure call routing rules, check out call statistics, get new numbers, manage electronic invoices and request technical support.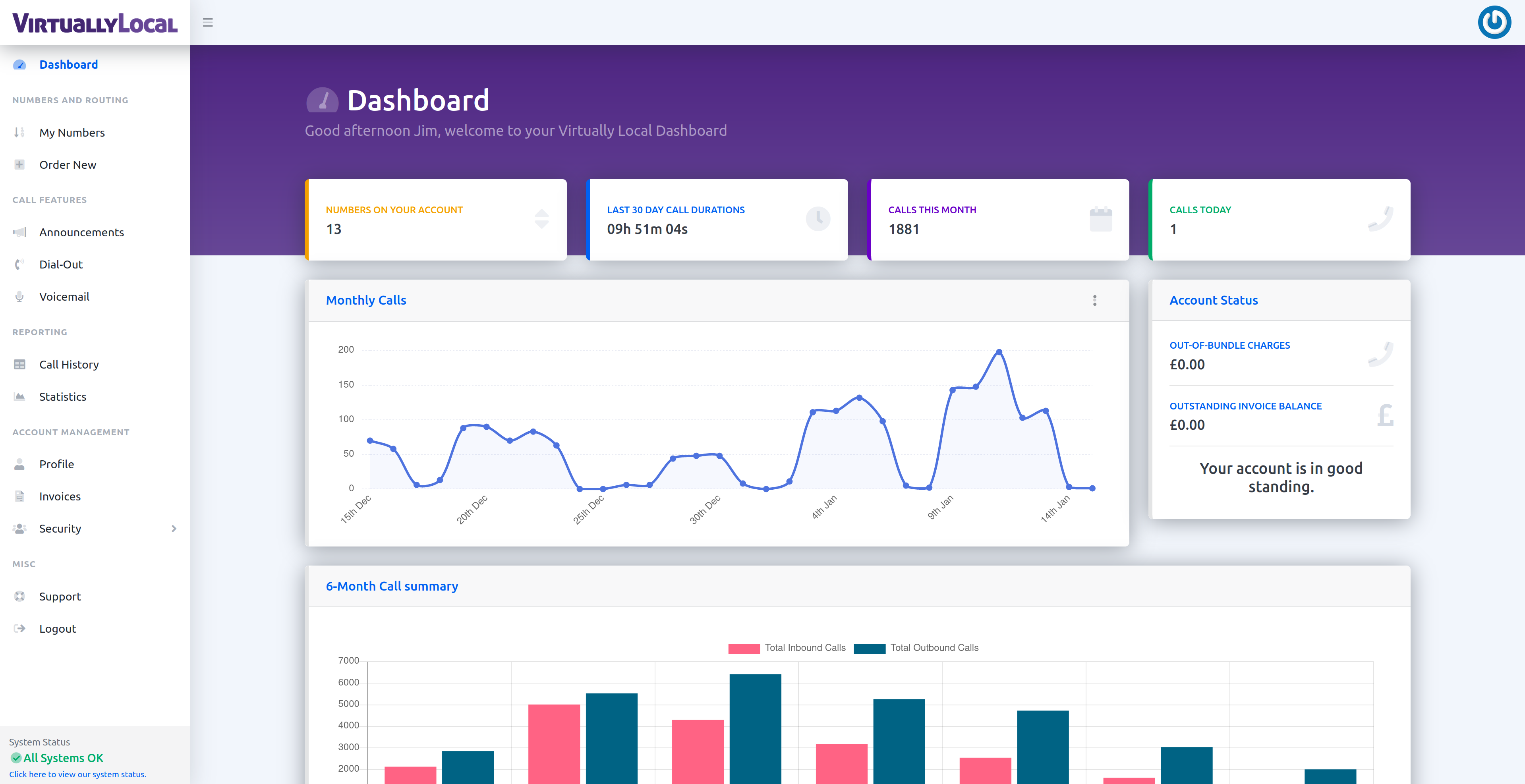 My Virtually Local
Your always available, online management portal. Our intuitive My VL portal allows you to manage your account, reroute your numbers, purchase new numbers and see all your calls including detailed statistics for numbers which have Advanced Statistics available.
Account Management
No need to speak to a member of support or send an email in, you can make changes to your account from within the MyVL Portal.
Purchase New Numbers
Easily browse numbers and purchase something new and have it active in mere minutes.
Manage your Numbers
Reroute and update your virtual numbers whenever you want, 24/7, 365 days of the year.
VL Reporting Engine
Our powerful reporting tools on our Business and Unlimited plans allow you to see how your phone number is performing and give you detailed call statistics.
---
Plans
Four call plans to suit your requirements, all with a free telephone number and free setup.
Frequently Asked Questions
Can I use Virtually Local as an individual?
Indeed you can! Our platform is ideal for both home and business users alike. If you have any questions or queries, please do contact us.
Can I choose my own Virtual Phone Number?
Absolutely! Select the relevant area code and you will be presented with a comprehensive list of available virtual telephone numbers. Numbers are displayed in groups of standard, gold and platinum. Simply select the virtual number of interest and follow the simple sign up process.
But wait, there's more...
We have a lot of answers to common questions, so take a look at our FAQ page for more.
View our FAQ's
"Responsible for the 24-hour delivery of medical equipment to hospitals within our region, the diligence and politeness of the support we receive from Virtually Local is unparalleled when compared to our previous supplier. Virtually Local's online portal provides us with a very simple method of changing our call divert profile 24/7/365 and I can rest assured that if we need support it's right there when required."
Lucas Bale -
London
"We approached Virtually Local at least three years ago now. We wanted a landline telephone number automatically diverting to our engineers' mobile phones. We now advertise the same telephone number on all marketing material including company vehicles. The level of service we receive from Virtually Local is brilliant. I find myself recommending these guys to friends and customers at least once a week."
Stephan Ward -
West Bromwich
"We started as a one-man driver chauffeur company; but quickly realised we needed more cars and more drivers. With that comes the necessity to be able to handle more enquiries and more calls. Virtually Local provided us with one central telephone number that is diverted to a team of 4 remote operators – any available operator can handle the call. Would I recommend Virtually Local? Without a doubt."
Vivian McAndrew -
Manchester
"Starting my own company was no easy task, especially daunting with the local competition within the security industry. Virtually Local came as a recommendation. I contacted Virtually Local by email with my requirements which was soon followed by a return phone call. My new telephone number was setup and working within the hour which is now printed all over our merch."
Colin Wandsworth -
Cheshire
Ready to get started?
Choose a new number or log in to your existing account.
---